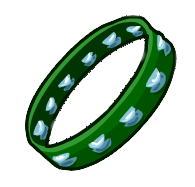 The Tambourine Pin is a pin in Club Penguin. It is free and it is currently available to all penguins at the Lodge Attic.
It is Club Penguin's 128th pin.
The release is because the musical instrument, the Tambourine.
It is bigger than most of the older pins Club Penguin had been giving out.
This pin was released on a Wednesday.
It is identical to the Tambourine.
For some people, it had a tiny glitch. It was the buying glitch, the one that says Buy Undefined.