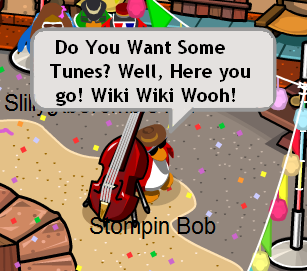 Stompin' Bob
is a member of the
The Club Penguin Band
. He's a self-taught musician who constantly practices.
He loves playing Hydro Hopper.
If he wasn't a musician, he would be writing poems for Club Penguin Times (he used to write poems in the newspaper).
He's a Level 5 Member.
He is the only member of the Penguin Band to have an instrument that is not available for penguins to buy.
He is the only member of the band to only play one instrument. (Franky plays guitar and banjo, Petey K plays piano and bandenon, and G Billy plays the flute and the drums.)
During the Music Jam 2008, Stompin' Bob wore a V.I.P. Pass with his clothing. This was a mistake, and was soon fixed.
He came second on a poll determining your favorite band member with 24% votes losing to Franky with 47% and just beating G Billy with 20%.
There was once a glitch where if you tried to name your penguin Stompin Bob it would say, "That penguin name is not allowed". This was fixed though, and will now say, "That penguin name is already taken.".
Stompin Bob could have been a Secret Agent because of his glasses, which were only available to PSA agents.
List of Performances
Edit
St. Patrick's Day Party 2006, Dance Club, March 20-22, 2006
St. Patrick's Day Party 2006, Mountain, March 17-19, 2006 (Not a performance) (Not a real character, eating lunch)
Cave Party 2006, Boiler Room, May 2006
Wild West Party, Dance Club, July 2006
Lighthouse Opening, Lighthouse, September 2006
St. Patrick's Day Party 2007, Dance Club, March 2007
Summer Party, Beach, June 2007
Fall Fair, Pizza Parlor, September 2007,
Wild West Party 2, Dance Club, November 2007
St. Patrick's Day Party 2008, Dance Club, March 2008
Music Jam 08, Iceberg, July 2008
Music Jam 08, Back Stage on random servers while on break autographing backrounds, July 2008 (Not a performance, a real character)
Penguin Play Awards, Backstage with the rest of the band autographing backrounds, March 2009 (Not a performance, a real character)
Music Jam 2009 on random servers while on break autographing backgrounds, June-July (Not a performance, a real character)
Music Jam 2009, Iceberg on random servers (Performance)
Music Jam 2010, Iceberg, July 2010
Music Jam 2010, Rooftop, on random servers while on break autographing backgrounds, June-July (Not a performance, a real character)