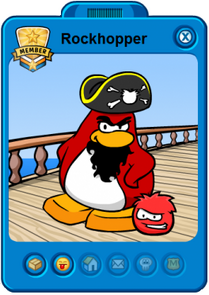 Rockhopper is a famous penguin on Club Penguin. He comes when his ship is docked at the Beach. He loves to talk like a real pirate. He has a famous Puffle. Yarr.
Player Card
Edit
In Rockhoppers' player card, there is not a "make friend" button (instead there is a box button which if you click on you get a background). If you click on the "Go to house" button, it goes to the Migrator. All other buttons (Find Friend, Go to house, Send Mail, Ignore and Report) are disabled.
In the past, the box button used to be a smiling face.
Only Rockhopper can make friends with other penguins. If you are a friend of Rockhopper, he will not appear on your friends list. He will visit you. This is valid for every penguin except Billybob.
Yarr is seen doing the same facial expression as Rockhopper on Rockhopper's player card.
It changed for the Island Adventure Party 2010. It has a smiley Face.
Sometimes, Rockhopper tells stories to other penguins while he is waddling around Club Penguin Island, often at the Cove.
The Shark
Edit
AT ME ISLAND
I SEE SOMETHING
YE KNOW WHAT IT BE?
IT BE A SHARK!
BIGGER THEN ME SHIP!!!
SO I START SWIMMING!!
I SWIM AROUND THE ISLAND!
A THOUSAND TIMES!!!
I BE MIGHTY FAST!
FASTER THAN THE SHARK!!
HE GET TIRED
AND SWAM AWAY!
I BE THE FASTEST PIRATE!
The Cream Soda
Edit
So there I was drinking me cream soda.
I was so thirsty, I drank the whole barrel!
But then I realized something,
I wasn't drinking cream soda at all!
Do ye know what it was?
It was shampoo!
I was coughing up bubbles for a week.
It was awful!
Learn from ye mistakes!
Always check the label on ye barrel!
The Bubblegum
Edit
Another story?!
Okay Mateys.
So there I was on my ship
Sailing the seas with Yarr at my side.
Yarr was chewing bubble gum.
When all of a sudden
Right in my beard,
It was a sticky mess!
I was picking it out for a week.
The end Mateys.
And thats all for Now.
The Giant Clam
Edit
I was sailing when I saw something
It looked like a giant clam!
I told it a story
About Coins for Change
The clam was to happy that it gave me a pearl!
The Scrooge
Edit
One night on the Migrator three ghosts appeared, the ghost of Christmas past, the ghost of Christmas present, and the ghost of Halloween.
They told me I had to shape up!
I told then I be not the Scrooge!
They said "oh sorry" and left! Then he said "BU-HUMBUG!" and Ran of to his home. And that be the tall tale of the scrooge!
The Cream Soda
Edit
THERE I WAS ON ME SHIP, AND I FOUND IT WAS RAINING CREAM SODA! I FOUND MY CREAM SODA BARRELS HAD JUST EXPLODED! I CAUGHT SOME IN ME HAT AND DRANK IT VERY SLOWLY, AND IT LASTED ME TILL I GOT HERE! THE END