G Billy
is one of the founding members of the Club Penguin Band. He usually plays the drums, and, occasionally, the flute.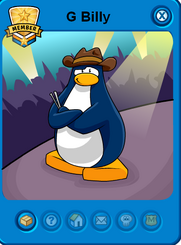 Interesting Facts
Edit
He has over 50 pins.
He says if he wasn't a musician, he'd still be working as a chef in the Pizza Parlor.
He is the only penguin to use an instrument that was sold in the Music Jam catalog in the Back Stage (although the drumsticks aren't an instrument themselves, they were still for sale in the music catalog).
He is most likely to be the drummer in the Penguin Chat 3 Band.
His flute is not the same as the flute in real life, his flute looks like a trumpet or recorder.
G Billy is probably the easiest famous penguin to imitate seeing as you only need the drumsticks, Dark Blue color and the Black Cowboy Hat.
He used to wear old blue and nothing else but in Music Jam 2008 he changed to wearing Dark Blue and a Brown Cowboy Hat.
There is a level 8 Card-Jitsu card of him.
He often speaks internet slang.
G BILLY HERES!!!!!
YEAH!!! ICICLE SOCK ROCKS!!!!
HAVE YOU MET PB????
JOIN THE BAND!
NICE DRUMMER!
WATCH THIS!!
LOLZ! NICE!!
WELL I GTG PPLZ
PEACE DRUMMERZ!!
Good work guys. We really rocked out there!
List of performances
Edit
St. Patrick's Day 2006, Dance Club, March 20–22, 2006
St. Patrick's Day 2006, Mountain, March 17–19, 2006 (Not a performance, eating lunch)
Mine Party 2006, Boiler Room, May 2006
Wild West Party, Dance Club, July 2006
Opening of the Lighthouse, Lighthouse, September 2006
St. Patrick's Day, Dance Club, March 2007
Summer Party, Beach, June 2007
Fall Fair, Pizza Parlor, September 2007
Wild West Party 2, Dance Club, November 2007
St. Patrick's Day, Dance Club, March 2008
Music Jam 08, Iceberg, July 2008
Music Jam 09, Back Stage on random servers while on break autographing backgrounds. (not an animation, a real moving character.)
Penguin Play Awards, Backstage on random servers while signing backgrounds (not an animation, a real moving character.).
Music Jam 2010, Iceberg, July 2010
Music Jam 2010, Rooftop, on random servers while on break autographing backgrounds, June-July (Not a performance, a real character)