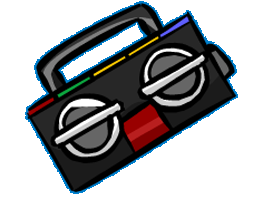 The Boombox is a members only hand item in Club Penguin. It was available during the Dance-A-Thon in 2009 and the Music Jam 2010. It is a free party item, despite being only available to members. If players dance with the Boombox they will breakdance.
Cadence is the only penguin who can breakdance without a boombox. But she can breakdance with the boombox with her clothes on.
There is a power card of the PSA version.
This Boombox is related to the exploding one in the Gadget Room.
Cadence ussualy wear it from Penguin Play Awards 2009,but at Music Jam 2010, when she visit a server she wasn't wear the Boombox.She use it after few minutes.
Invention
Edit
The Boom Box is another one of Gary's inventions. It does not really have a purpose, it can only self destruct. It also appears in Card-Jitsu as a special attack animation. In the fourth mission of Club Penguin, the Boom Box appears and it appears to be like a stereo, but once you turn it on, it explodes.
Invention Trivia
Edit
Since the agency made the Boom Box and Sensei has access to it (a special attack in Card-Jitsu), it could be a hint that Sensei has a connection with the PSA.
The Boom Box was a free item in the Dance-A-Thon party and the Music Jam 2009, but it was named boombox. Unlike the PSA boom box, it does not explode. Instead, your penguin will break dance.
The Boom Box in the Gadget Room is nothing like the clothing item.
The Boom Box's name is ironic, as it literally "goes boom."
The Boom Box is sometimes seen when Cadence is around dancing with it.