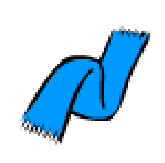 The Blue Scarf is a neck item in Club Penguin. It is members-only, and costs 150 coins in the Penguin Style catalog in the Gift Shop.
This item is popular during the wintertime.
A similar item might be the Pink Scarf, Green Scarf, and Yellow Scarf.
Some Mwa Mwa Penguins wear this.
It may come back in 2010. But that is un-comformed.