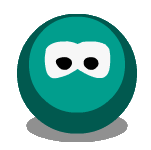 Aqua is a colour in Club Penguin that is currently available for purchase in the front of the Penguin Style catalog. It was the winner of the 2009 Colour Vote. It was a surprise to many players that Aqua won, because most polls had Lavender as the winner. It was first available on August 4, 2009 in the Penguin Style. All players can buy this item. The first play penguin (or famous penguin) to wear it was Norman Swarm, the main character in Norman Swarm Has Been Transformed.
Sending in to CP
Edit
Many penguins have sent in to the Club Penguin Team about it, but nothing changed. Here is an example of their reply:
We appreciate you taking the time to contact us. I understand you have a comment about the voting poll. Although this time your colour wasn't picked I can promise you that there will be future item polls. Check out the Whats New Blog, there is currently a voting poll for a new item on the island!
It is the second colour to win a colour vote. Lime Green was the first.
It's the most recently added colour.
Many are upset with the colour because it looks a lot like Light Blue. If you look at it along with Light Blue you can see this is true. Also, many penguins dislike this colour, so it is not seen often.
It turns out a blogger named Mimo777 made the colour win. In his blog, he said he would throw a big aqua party if the colour won, and that he wasn't a member anymore, which made people feel sorry for him. Because so many people liked Mimo777, they all voted for Aqua, causing Aqua to win.
Many people have fun and made up stories to who made the colour win.
Like Lime Green, it wasn't a starting colour when it was first released and it was only available in the Penguin Style
Some penguins voted for this colour because they thought it would be Old Blue.
It looks alot like light blue.
In some silhouettes of The Director, it looks like he/she is wearing Aqua. Although it could also be green, supporting the myth that The Director is Aunt Arctic.
If you invert Aqua, you will get Maroon